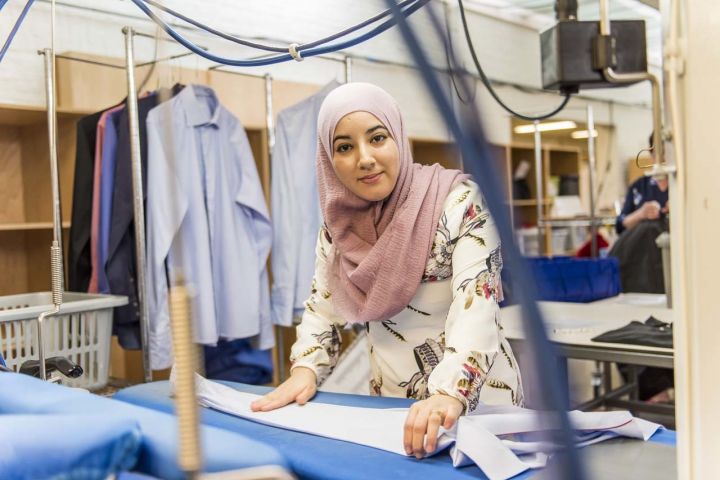 We love ironing
Ironing... not everyone's cup of tea, or you might simply not have the time to do it yourself. Why not outsource your ironing to MIVAS?
The ironing service is primarily for employees of the companies in the industrial zones in Lier.
Our courier service comes to your company at the agreed time to collect and return the ironing of your employees.
Obviously individuals can also make use of our service. Bring us your ironing and you can collect it again in no time, provided as desired, on a hanger or neatly folded up.
A wrinkle-free result guaranteed.
Strijkdienst Duwijck is a service cheque company.
How do you proceed with this?
First and foremost, register at Sodexo (free of charge), this can be done via internet www.dienstencheques-vlaanderen.be or by using a registration form that you can order by phone (+32 (0)2 547 54 95) or which is available in our shop.
The tax-friendly service cheques can also be ordered via these channels. One cheque represents 60 points. Below you can find a points list of our ironed laundry.
Opening hours
Monday, Tuesday, Wednesday and Thursday: 8:00 a.m. to 5:30 p.m.
Friday: 8:00 a.m. to 1:00 p.m.
Saturday: 9:00 a.m. to 1:00 p.m.
Our ironing service is situated at Antwerpsesteenweg 387 in Lier (there is parking in front of the door) and can be contacted by Phone +32 (0)3 488 67 08 or e-mail: strijkdienst.duwijck@mivas.be
Would you like to outsource your ironing?
Contact our ironing service via +32(0)3 488 67 08 or via mail