Economic and social partner
At MIVAS we aim the perfect balance between economic and social aspects. That balance is the red thread throughout our story and that is how we offer added value to our clients and employees.
Mission
MIVAS offers adapted employment to persons with a labour restriction. This labour restriction can be person or society related.
In a broader framework MIVAS takes various initiatives to promote labour integration of persons with a large distance to the labour market.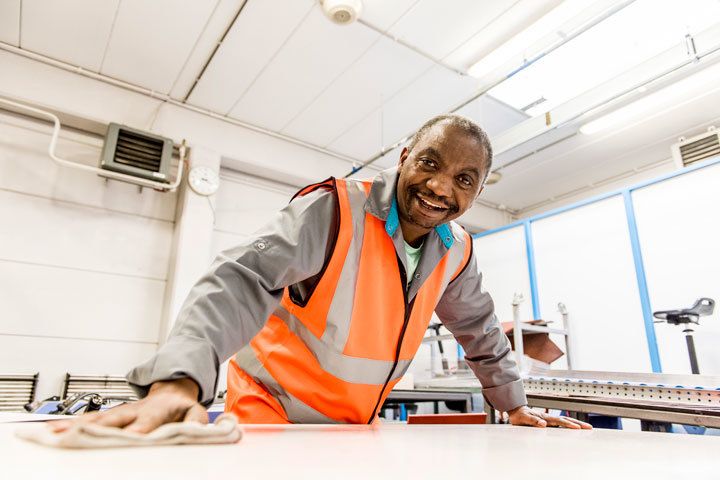 Vision
Adapted work is organised within a business organisation with a full business management and must be in line with the capacities of people with a labour disability.
MIVAS strives towards a balanced ratio of economic and social aspects, which can be found in the totality of our organisation and also in every individual part of the operation.
This means that MIVAS wants to be a reliable partner for its clients, strong in service and quality, with attention to the needs of the client.
Meeting the needs of customers must never be at the expense of the well-being and development of people with a labour disability.
Available places are preferably given to people with a labour disability, with specific attention to weak employees.
It is also avoidable that the expansion of the target group leads to the displacement of persons with a personal labour disability.
Staff members combine productive competences with social engagement.
Inspired by the quality principles of EFQM, a process model has been and is being developed in which personnel-oriented and production-oriented procedures, including safety prevention and care for the environment, are integrated.
The commitment to adhere to these procedures and the continuous pursuit of improvement provides MIVAS with a quality label that offers certainty for both clients and contractors.
MIVAS is constantly working on a positive image and wants to profile itself as a professional organisation that stimulates innovation and is a leader in the social economy.
MIVAS wants to be a financially sound organisation.
The regular follow-up of the financial data makes it possible to detect tendencies and trends that form a guideline for socio-economic decisions that also perpetuate continuity.
Values
Our approach is focused on personal growth.
MIVAS pursues a sustainable personnel policy, which gives employees the opportunity to develop and to feel good in their job.
We strive for an atmosphere of openness and togetherness.
In this way we create equal opportunities for everyone, regardless of disability, origin, belief or sexual preference.
We want to work flexibly. MIVAS is a customised company in all its facets; we respond flexible to the needs of the employees and also of the clients.
Our approach bears witness to quality and will always seek a balance between the social and the economic.
We offer qualitative professional support to employees, but we also set high quality standards for the execution of orders. The endeavour to provide a healthy balance between these is a permanent challenge.
Are you looking for a new challenge in a pleasant environment?
Would you like to outsource packaging work or other activities?
Contact us for an appointment or quotation.