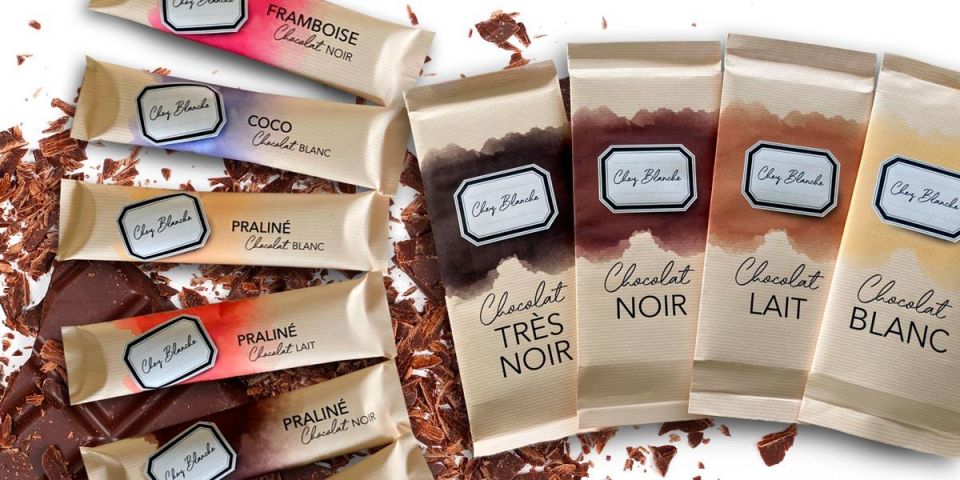 Chez Blanche, VitraPack and Mivas, respectively chocolatier, packaging producer and we as a socio-economic enterprise, are pleased to highlight our cooperation! And this with a sustainable packaging for chocolate, namely the paper flowpack instead of the conventional plastic flowpack foil.
The upcoming legislation stating that by 2030 all plastic packaging on the European market must be either reusable or recyclable, and the social pressure that comes with it, has also prompted Mivas to look for alternatives.
From an ecological perspective, we have already invested a great deal in reducing the number of layers of packaging film and, through technological optimisation of machines, processes and materials, have almost halved our plastic film consumption. The impact of this reduction on the environment is already considerable but still insufficient! It is therefore in cooperation with our suppliers and customers that Mivas wants to search for an ecological and circular solution.
Whereas a socio-economique company is usually only called in as 'executor', Mivas has decided to take on the role of 'actor' in order to play an active role within the packaging sector. Mivas is therefore going in search of alternative packaging possibilities itself!
Tests were carried out for flowpacks in paper film in close cooperation with VitraPack (Wommelgem).
After the necessary trial and error and with a few adjustments to our flowpack machine, this appeared to work.
All we had to do was wait for the right customer who dared to take the plunge. And this was Jean Galler from Chez Blanche! Together with VitraPack, we were able to create packaging that further underlines the quality of his chocolate by developing sustainable packaging!